Use our firsthand experience and knowledge of Relief and Development as your stepping stones.
improve the management of your programs and
be effective from

day one!
Unlocking Your Potential- Finding Your Joy
Overwhelmed? Everything is a priority? Know you love your job but dread going to work each day? In a new leadership role and your supervisor is remote and not available for anything other than the house on fire? New culture and everything you try seems to backfire? Just need someone who is neither your boss nor a colleague from another NGO to talk through a situation or serve as a sounding board?
Leadership positions, especially Country Director, Chief of Party, or similar roles, can often leave you feeling isolated. Depending on where you are located, it might be that almost everyone you know is from another organization, requiring restraint in what you share with your peers- even though they understand your situation so well. Typically, supervisors are remote and expect you to handle all but the most serious situations on your own. (Or your supervisor is not available or supportive in the way you need.) Isolation and exhaustion from the hundreds of final decisions for which you are responsible every day can lead to burnout and loss of creativity and tact.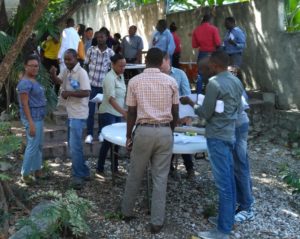 Program management and organizational leadership requires the ability to toggle between a bird's eye view and getting deep in the weeds of program implementation and the support functions that make that possible. Stepping Stones Consulting will work with you to scan across all of the different teams and functions that are involved, and then deep dive into the weeds to hone in on the specific issues to address, problems to tackle, or opportunities to seize.
Unlocking Your Team's Potential- Finding Their Joy
Years of managing teams with diverse cultures, ethnicities, religions, and socio-economic backgrounds, at times in conflict with one another has only strengthened the belief that:
1- everyone has potential to thrive and contribute;
2- teambuilding and morale in our field takes constant, deliberate effort.
Trying to get the most out of your team while under pressure to produce program results in a short time period, under security restrictions, or when your staff themselves are impacted by a crisis (or all of the above at the same time!) is exhausting and can sometimes feel like a luxury we don't have time for. However, while building a team takes time and effort, losing team cohesion and morale can happen swiftly at great cost to your progran's success and reputation.